---
SPEAKERS
---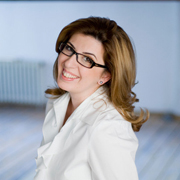 Irina
Anghel-Enescu
---
Secretary General at South Eastern European Private Equity and Venture Capital Association
Irina Anghel-Enescu is the Secretary General of the South Eastern European Private Equity and Venture Capital Association, and a member the Representative Group of the European Venture Capital Association.
Trained as a lawyer, Irina was one of the pioneers of legal advice for private equity and VC funds financing entrepreneurial ventures in South Eastern Europe and she founded more than 13 years ago the first law firm specialized in advising both funds and entrepreneurs in her native Romania.
After 11 years dedicated to the practical side of private equity and venture capital industry, in 2009 Irina took advantage of her one year fellowship at Harvard Kennedy School to focus from an academic perspective on venture capital's role capital in stimulating entrepreneurship and innovation and on policy measures aimed at creating a venture capital ecosystem leading to economic growth. While at Harvard, Irina was also the Vice-President of the Venture Capital and Private Equity PIC at Harvard Kennedy School.
After returning to Europe, Irina was appointed as a member of the Romanian National Council for Development and Innovation and she created and NGO, Triple Helix, focusing on stimulating entrepreneurship in Eastern Europe.
Considering her unique combination of practical, institutional and academic expertise related to venture capital, Irina is frequently invited to be a panelist or moderator at conferences organized by prestigious institutions (like London Business School, Stanford University, Harvard Business School, or the relevant agencies of the governments of various contries, such as Singapore, Malasya or Russia) and she was also a special guest speaker at Stanford School of Engineering and Harvard Kennedy School.
In the past, Irina was the President of the Future of the Profession Commission of the largest international association of young lawyers (AIJA), and she was one of the Global Ambassadors of the Global Entrepreneurship Week, covering 77 countries in 2008. Also in 2008, she was selected by Eisenhower Fellowships as one of the 25 emerging leaders of the world who were included in their Multi-Nation Program, and since 2010 she sits on the Global Alumni Advisory Council of the same organization.
She sits on various other boards, including the board of NESsT, the first venture philanthropy organisation active in Eastern Europe, and she is the President of Harvard Club of Romania and Moldova.